Polished Concrete
Perfect for a range of commercial, residential, and industrial environments, polished concrete floors offer Sydney properties a contemporary, stunning looking, and incredibly durable floor.
Here at TLC Epoxy Coatings, we combine the very best products and services to deliver the finest polished concrete in Sydney. All of our flooring products are made right here in Australia and our installation services are built around you. We ensure a seamless service that works around your schedule for minimal disruption to your day to day lifestyle.
To find out more about concrete floor polishing in Sydney and the benefits we provide for commercial, industrial, and residential surfaces, contact us today.
Why Choose Polished Concrete Floors in Sydney?
Durable, strong, low maintenance, and chemically resistant, polished concrete floors don't just look great. These floors also offer incredible practical benefits that will serve your property well for many years to come. Polished concrete floors are also fast and easy to install, resistant to chemicals and spills, and can offer excellent slip resistance. If you have an existing concrete floor that you want to bring back to life, ask us to apply a polished concrete surface today!
Of course, polished concrete also looks stunning in a wide range of environments. In the home, these glossy floors will brighten up any kitchen, living, or dining area, providing the perfect complement to the modern living environment.
Whether it's an office building, a warehouse, or a hairdressing salon, polished concrete also looks right at home in sleek commercial environments. Finally, industrial settings all the way up to heavy-duty manufacturing plants can benefit from the practical and aesthetic benefits of a concrete polished floor.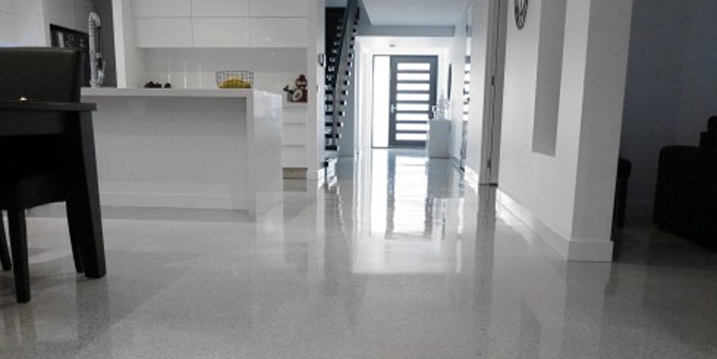 Why Choose TLC for Concrete Floor Polishing in Sydney?
Expertise is about more than having the right flooring products or tried and tested services. It's about having the experience to know exactly what's needed for each job and adapting to make this happen. When it comes to concrete floor polishing in Sydney, TLC Epoxy Coatings has worked with a full spectrum of clients to provide outstanding results on a timeline that suits them.
We can recommend and install the flooring solution that suits you best, with constant considerations being made to ensure the service you receive is bespoke and fit for purpose.
Get a Free Estimate on Polished Concrete in Sydney
To discuss your requirements or get a free estimate on polished concrete floors in Sydney, call us today on 1800 2 EPOXY.